Young Numismatists (YN) Program
The Florida United Numismatists Young Numismatists (YN) Program has developed into one of the best in the country. The purpose of the YN program is to nurture those children through young adults in the hobby of numismatics. For many years, former FUN Director Ken Embler paved the way for this program to grow to what it has become today. Ken's ease in working with all levels of YNs was evident the minute that you stepped into one of his YN sessions. Today, FUN Director Tony Bonaro not only does an outstanding job with the YNs but also has an afternoon session for Boy Scouts to earn their Merit Badge and Girl Scouts to earn their Fun with Money Patch.
Each and every YN who attends FUN's program receives a bag of "Numismatic Goodies", all of which are donated by our dealers and exhibitors. Our YNs can expect numismatic games, contests, education and auctions at each session. Every YN who attends the program will also receive a boxed lunch compliments of FUN. Parents may purchase a boxed lunch if enough are available.
The YN program is scheduled for Saturday morning. Each attendee must be a FUN YN member. YN dues are $5.00 per year and must be paid before they are allowed to attend the program. Sign in begins at 9:00 AM. Bring a friend and be ready for lots of FUN.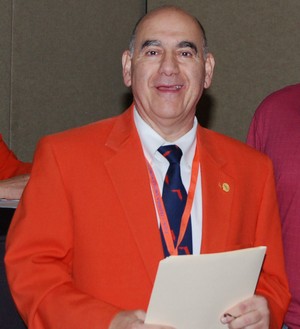 FUN YN Director: Tony Bonaro