Young Numismatists (YN) Program
The FUN Young Numismatist Program, for coin collectors between the ages of 5 and 18  is second to none.  Our program is centered around teaching Young Numismatists (YN's) that collecting coins can be a fun hobby and an exciting career.    The instructors enjoy sharing their knowledge, creating a program that has much to offer.  Each YN program has a theme that is interesting to boys and girls of all ages.  At past shows we have conducted classes on the Introduction to Coin Collecting, facts about State Quarters, dimes, nickels and Gold and Silver.  In conjunction with the help of the U.S. Mint, we have a class on every day coins called, "History in your Pocket".  The Saturday morning YN program includes games, contests, trivia challenges nd ends with a special lunch provided by FUN. Each participant is given a welcome bag that contains many of the things needed to start a coin collection, along with folders, books and many coins, tokens, and medals.  The morning program cost $5.00 which includes all materials, a one year membership in Florida United Numismatists and lunch.  Need we say it is a "Steal of a Deal".
On Saturday afternoons we offer Boys Scouts the opportunity to earn the "Coin Collecting Merit Badge", and Girl Scouts the opportunity to earn the "Fun with Money" patch.   These coin collecting clinics cover all the requirements so that it can be completed in one afternoon.  In addition to learning, scouts have the opportunity to win  great prizes while actively participating.  In the past 10 years hundreds of boy scouts and girl scouts have attended these activities.
For more information on these programs contact Tony Bonaro at TonyBonaro@Gmail.com.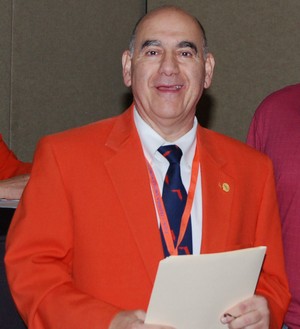 FUN YN Director: Tony Bonaro